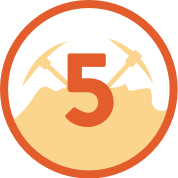 Sierra Tunnels Mining Co.
At the beginning of the Gold Rush, individuals panned and picked mostly for surface gold. But as easily accessible supplies dwindled from the rivers and accessible terrain, well-financed companies moved in. An explosion of R&D and technology rapidly sped innovations to extract gold from the Sierra. Tens of billions of dollars worth of gold in today's prices was discovered and San Francisco's early economy was built managing this flow of gold. It became the driving industry pushing the development of the West.
On this hole, we honor the role invention played in many advancements with a Rube Goldberg-style mechanism that literally moves your ball forward.