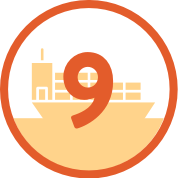 Mission Bay Shipyard
As you play this hole, imagine what it must have looked like to see the Gold Rush era clipper and steamships dotting the coastline. In fact the story of the West owes a great deal to the ships that once operated just blocks from Stagecoach Greens. Half the prospectors arriving in California came via ocean travel. The ships would transport goods and people in, and then return filled with local crops, giving the world access to fresh produce this area was once known for. In their haste to get to gold many a sailor abandoned ship in San Francisco and the sunken ships are still buried under the City today.
This hole offers the golfer the long trip over calm seas or a daring putt that will get you there faster.