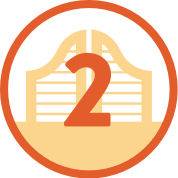 Barbary Coast Saloon
At the heart of every boom town was the saloon. It's where people gathered to share news, seek lodging, eat, imbibe, and let loose. You could tell how thriving a town was by the sheer number of saloons it supported. They were the first to pop up, and the last to close down.
Enter our version of the classic boomtown saloon, larger than some SF apartments. Make your way in to belly up at the bar or get behind it and serve up the perfect Western saloon photo. Oh, and remember...no gambling allowed in our establishment.