Esther and Jan's San Francisco
Our Favorite Things to Do In San Francisco
By Esther and Jan Stearns—November 15, 2018
---
Our Love Letter to San Francisco
I first visited San Francisco with my Aunt Ginny and my sister Claire in 1969. Living in New England, my aunt often spent cold February weekend days at a local laundromat, washing her clothes and preparing for another week of work at the telephone company factory where she was the administrative assistant. She loved the West and spent these times planning wonderful western vacations for her and her nieces. I was amazingly fortunate to be one of those nieces. Because of her, I visited California, Utah and New Mexico. No place resonated with me more than here. There are so many special and surprising things to do and see in San Francisco. Any day in San Francisco can be an adventure.
In 1981, after college, I moved to a city that always felt like home to me and in 1986 Jan moved here also. We met in 1992. Because of work, we left the city in 1996 but it was always our goal to move back. That became possible in 2012 and by that time we had landed on Mission Bay as the neighborhood for us. We wanted our three children, by then almost teens, to come to know the city we love.
In 2018 we launched Stagecoach Greens, a miniature golf course in Mission Bay that one article called a "love letter to San Francisco." That phrase captured perfectly why we built Stagecoach Greens and why we and our children love operating it.
We would like to share some of the special activities that we enjoy in San Francisco that have entertained and inspired us when we designed Stagecoach Greens. We love to share our city with others and point people in the direction of underrated things to do in San Francisco. A lot of people are looking for free things to do in San Francisco - so many of these activities are free or low cost. We like to do active things and often we are just looking to for a place to walk or bike to. Whether you have come in for the weekend or have 3 days or just a Monday to get to know San Francisco here is our insiders guide of some special places and things to do.
Visit a Privately Owned Public Space
A few years ago, when we had family visiting, we took a fascinating walking architectural tour where we learned that developers of large buildings are often required to create space that is accessible to the public. The sites are all marked with signage but most of the signage is frankly hard to find. Also throughout the city are many public art spaces that make a great walking destination. If you are heading out and want to find a POP or Public Art space, check out the cities interactive map of all the sites: http://sf-planning.org/privately-owned-public-open-space-and-public-art-popos#map
A favorite of ours: 199 Fremont where the seating is part of the art.
If you are in Mission Bay, not on this list but in the same spirit, is the plaza on the southwest corner of the Public Safety building, at the corner of China Basin and 3rd St. The plaza is a tribute to the city's first responders and the bell tolls each day at noon. Check inside the police building for a tribute to the city's police.
Immersing yourself in the city's architecture through visiting these sites can make you a part of the "tech boom," just like playing Hole #10 at Stagecoach Greens.
Visit an Historical Site
Although there are many well-known historical sites in the city, there are also many you may not have heard of or thought to visit. The California State Parks has a list of historical buildings in SF here: http://ohp.parks.ca.gov/?page_id=21482
Often at these sites, there is little to do but stand in the presence of San Francisco's history (and maybe take a selfie). If you visit us at Stagecoach Greens, check out the artwork on hole #16 for more Bay Area inventions. A walking tour of some of these sites makes for an active adventure and the selfies are free!
Three of our favorites described on the State Park website:
NO. 941 FARNSWORTH'S GREEN STREET LAB - In a simple laboratory on this site, 202 Green Street, Philo Taylor Farnsworth, U.S. pioneer in electronics, invented and patented the first operational all-electronic 'television system.' On September 7,1927 the 21-year-old inventor and several dedicated assistants successfully transmitted the first all-electronic television image, the major breakthrough that brought the practical form of this invention to mankind. Further patents formulated here covered the basic concepts essential to modern television. The "Genius of Green Street," as he was known, died in 1971.
Location: NW corner of Sansome and Green Sts, San Francisco
NO. 937 SITE OF INVENTION OF THE THREE-REEL BELL SLOT MACHINE - Charles August Fey invented the first coin-operated, three-reel slot machine in San Francisco in 1895. Fey continued to manufacture the popular 'Liberty Bell' gaming devices in a workshop located at 406 Market Street from 1897 to 1906, until the workshop was destroyed by the 1906 earthquake and fire. The international popularity of the bell slot machines attested to Fey's ingenuity as an enterprising inventor whose basic design continues to be used in mechanical gaming devices today.
Location: Traffic island on N side of Market St between Bush and Battery Sts, San Francisco
And if you are feeling daring and are near Glen Park:
NO. 1002 SITE OF THE FIRST DYNAMITE FACTORY IN UNITED STATES - The first commercial manufacturing of dynamite in the U.S. occurred in what is now Glen Canyon Park. On March 19, 1868, the Giant Powder Company began production at its first manufacturing plant, under exclusive license from Alfred Nobel to produce his new explosive in America. The factory did not last long. On November 26, 1869, an explosion completely destroyed the entire facility, turning every one of the buildings on the place, and the surrounding fencing, into "hundreds of pieces," according to a newspaper account. The company moved its operations elsewhere, an action that was to be repeated again in the future under similar circumstances, until it moved to its permanent and final home at Point Pinole on San Pablo Bay.
Location: Glen Canyon Park, San Francisco
Bike or Walk Through Golden Gate Park
Maybe it's the California lifestyle, but a lot of people are looking for active things to do in San Francisco. On Sundays and all holidays, John F Kennedy Drive (JFK) is closed from the East End (Kezar Drive) to Transverse Drive and we love to take a leisurely ride and check out some fun spots including our favorite waterfall:
https://goldengatepark.com/the-waterfalls-of-golden-gate-park.html
Rainbow Falls: In 1930, the colored lights that originally illuminated the falls during its dedication led to the naming of Rainbow Falls. With the nearby Lloyd Lake supplying the water for the falls, circulated water travels into the trench stream located along JFK Drive. Since the peak of the Falls is enclosed by fences, you won't be about to look down over the cascade, but the sight is a treat nonetheless. Bring along your camera or binoculars to capture the beauty of resident wildlife, such as an egret or heron standing in the waters.
During a visit to Rainbow Falls, you may also want to take the time to explore the intriguing Prayerbook Cross – situated near the top of the falls. Dating back to 1894, a trail leads up the hill to a massive Celtic-style landmark with an interesting historic past. There is a sign that marks the entrance to the trail as you come from John F. Kennedy Drive. Measuring 64 feet tall, the monument is the tallest in the park.
Go past Traverse drive to visit the Bison in the Buffalo Paddock and see the Windmill near the Ocean Beach end of the park. There is no better way to spend a weekend day in SF. Then relive the experience in mini golf form when you play Hole #13 at Stagecoach Greens, inspired by Golden Gate Park.
Watch a Giants Game for Free
There are so many free things to do in San Francisco today. If you take a stroll along the waterfront behind AT&T park and the Giants are playing, you can watch some of the game from the free viewing area under the bleachers. There may be a line and you can only stay for 3 innings, but it is a great way to catch the game. If there is a Splash HIt while you are there, turn and you may see the splash. When you play Stagecoach Greens you can hit your own home run at Hole #12.
As you walk further south along the water, count the container ships waiting to get into the Port of Oakland. On Sunday they line up waiting to enter the port in the morning. When you play Hole #9 at Stagecoach Greens, see how many ships you can count.
We enjoy so many other outings in SF it is hard to choose:
Visit the Haight and get your own psychedelic T-Shirt, maybe you will see Eureka from Hole #18
Walk along Ocean Beach, feel the sand in your toes and imagine getting a hole in one on Hole #15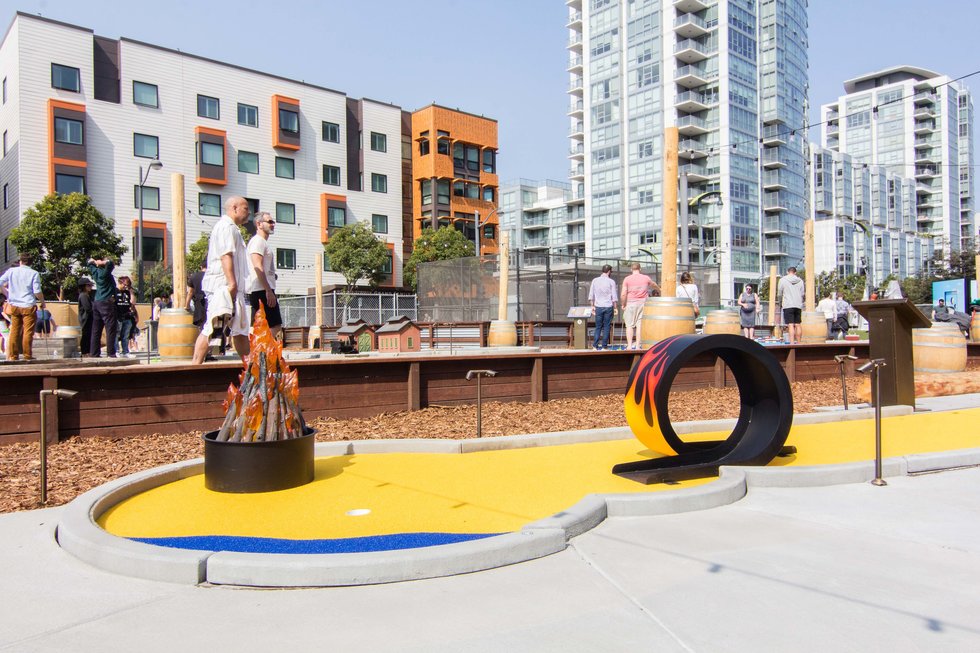 If you are looking to explore the City at night a drive up to catch the view from Sutro Tower and then catch the view OF Sutro Tower as you finish Hole 10 and move to Hole 11. Stagecoach Greens is especially magical after dark, if you are looking for different kinds of things to do in San Francisco at night.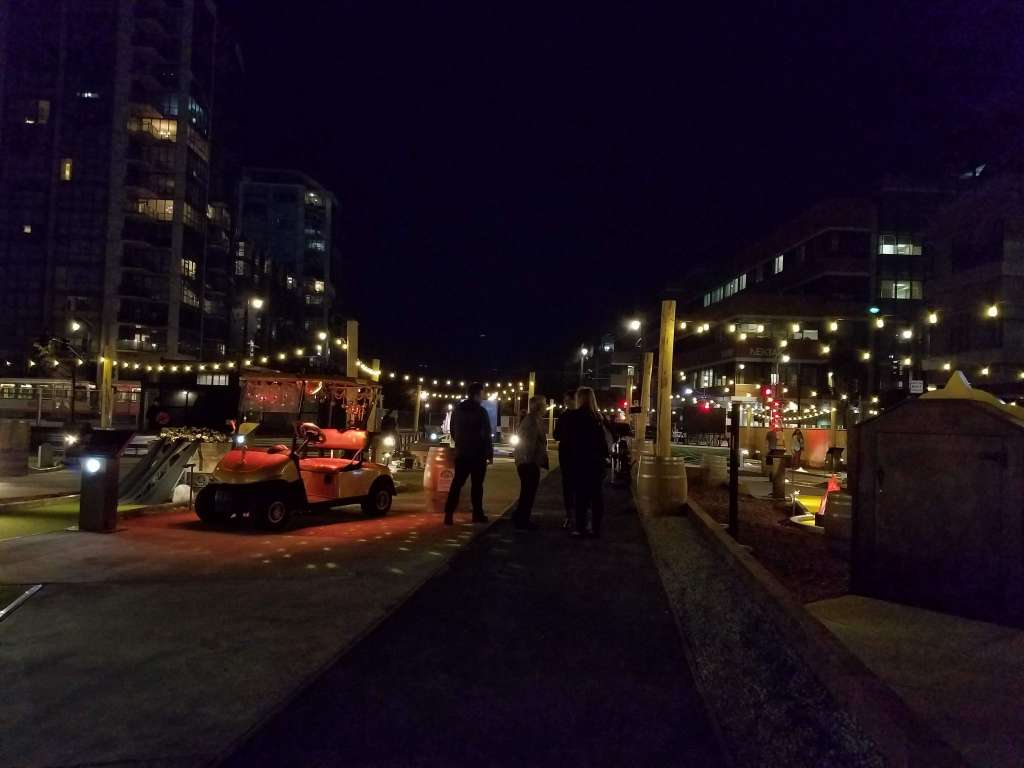 Visit the Fortune Cookie Factory in Chinatown
http://www.sanfranciscochinatown.com/attractions/ggfortunecookie.html
And learn more from our video
Visit the Musee Mecanique at Fisherman's Wharf. We used to play at the Musee when it was at the Cliff House and it inspired our love of classic games.
An ambitious walk will take you up the stairs of Coit Tower where you can pose for a picture checking out your watch and refereeing the big high rises' fight for supremacy.
We hope you will join us in our love affair with San Francisco, whether you are here for a day, 3 days, a weekend or a lifetime, you'll always find something new and fun to do here. Let us know some of your special finds, too!
XO
Esther and Jan